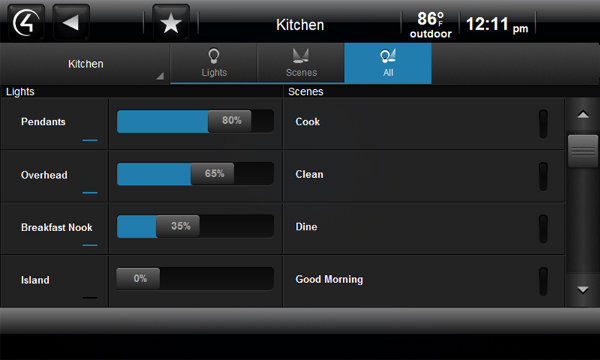 With Smart Lighting systems you can control every light in the house with a single press of a button or a swipe on your smart phone.
The Smart Lighting system can be set to schedules whether this is a goodbye button to put your house to sleep over a few minutes or night modes which brings on low level lighting for access to bathrooms.
The Smart Lighting system can learn your living patterns can record how you use your lights over a period & playback so when you are away on holidays you tell the system to play the last two weeks patterns giving peace of mind & added security while your away.
The Smart Lighting Ireland system can also:
Create any lighting scene using any lighting circuit on your Smart Lighting Ireland system, for example when your electric gates open bring on driveway lights, outside lights, hall lights without pressing a button.
Hear a noise in the middle of the night, hit the 'Panic' button beside your bed bring all lights on.
Integrate with your smoke alarm to turn on escape routes should a fire occur.
Integrate with you music system to create a mood setting while your favourite playlist plays.
Integrate with your intruder alarm, using their PIR's to turning off lighting in rooms not occupied.
Control your electric gates from any button or set schedules for them to open or close using your Smart Lighting Dublin system.
Reduce your lighting costs by setting max output of all lights to 90% saving 10% on you electricity bill.
As Authorised dealers of Dynalite Smart Lighting system, we can offer Smart Lighting systems in Dublin & throughout Ireland.
Our home automation systems can be built on:
Where Do We Install Home Automation Systems?
Altough iQ Control are based in Louth, we have provided home control systems & home automation systems such Control4 in installations across Ireland & Northern Ireland in counties such as Dublin, Meath, Kildare, Wicklow, Westmeath, Kilkenny, Laois, Carlow, Offaly, Down & Donegal
Give Us A Call About Home Automation…
If you would like to know further information about Home Automation or Home Control systems or any other home system please give us a call on 0876297786