Market leaders within the Smarthome Ireland industry, iQ Control specialise in the supply, installation and maintenance of heating control systems to both public and private customers across Ireland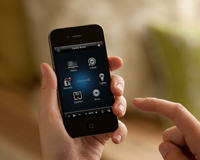 At iQ Control we understand the importance of providing the appropriate heating control systems for your home. Because of this, we work with you to provide a custom designing heating control system that meets your individual requirements. With over ten years experience in the heating control industry iQ Control can install a home automation system that integrates an intelligent heating system, ventilation system, air conditioning (HVAC) solar panel systems and gas and electric fire systems- all of which can be accessed and controlled from a click of a button on a control panel in your home or from any iPhone, iPad, IOS, Android device & over the internet & Wifi. "Heating Control can not only keep your room at a constant temperature but can help reduce energy consumption." As iQ Control offer a range of home automation devices, we can integrate a heating control system into a larger bespoke system which could include other elements of Lighting Control, smart security systems and multi room audio visual systems. iQ Control are suppliers of Heatmiser which together with Control4 bring your smarthome expierence to the next level. Your heating can be controlled using Control4 Home Automation system so every device within the system can control the the heating stats from anywhere in the house or in the world.
Benefits Of Heating Control System
Where Do We Install Heating Control Systems?
Altough iQ Control are based in Louth, our team have recently provided home automation system installations across Ireland & Northern Ireland in counties such as Dublin, Meath, Kildare, Wicklow, Westmeath, Kilkenny, Laois, Carlow, Offaly, Down & Donegal
Call Us Today About Heating Control..
If you would like to know more information about heating control, heating control systems or smart heating control installation services, please don't hesitate to contact one of our friendly staff on 041-9889809